July 12 is National Simplicity Day—a holiday that few people have heard of but that many people could benefit from celebrating. With a better understanding of the idea behind this holiday and how its principles can improve your own lifestyle and finances, perhaps you can make some changes to begin living a more simplified and stress-free life.
More About National Simplicity Day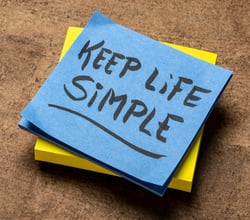 This particular holiday was created in honor of transcendentalist Henry David Thoreau, who was known for reflecting on simple living in his writings (including the famous book Walden). The idea behind this holiday is that sometimes, life is best lived when you cut out all the unnecessary things and tasks that don't bring you joy. This doesn't mean going without; it simply means getting more out of less.
A simpler life can also cut down on stress, leaving you with less pressure to accumulate pointless things or spend your precious time on activities you don't truly enjoy. And of course, by cutting out some unnecessary things in your life, you can be better off financially as well.
Simplifying Your Life to Save Money and Reduce Stress
So, what are some steps you can take to start simplifying your own life in celebration of National Simplicity Day? The nice thing about this holiday is that you can observe it as drastically or subtly as you're comfortable with.

One goal that you may want to consider is simply sitting down and making a physical list of the things and activities that are most important to you. This might include physical objects and things like spending time with family. Focus on the things and activities that bring you the most joy in your everyday life; this will be your guide to cutting down on some of the "clutter" that may be having the opposite effect.
From there, brainstorm some ways in which you could begin living a simpler life today. This could mean going through your garage and closets to find physical objects you no longer need. You could even consider taking these items and holding a garage sale to get rid of them and bring in some extra cash.
Another way to potentially simplify your life is to stop worrying so much about having the "latest and greatest" things. When something breaks (such as an appliance or electronic), look into having it repaired rather than replacing it outright. Doing so will not only save you money but will cut back on unnecessary waste.
You can also simplify your everyday lifestyle to save money. Consider, for instance, something as minor as turning down your thermostat even a few degrees during the summer months. Doing so will put less wear and tear on your AC unit while also saving you money on your energy bills. Meanwhile, a difference of a few degrees inside your home will probably not even be noticeable to you.
Cut down further on your energy costs and live more simply by hanging up your laundry to line-dry rather than running it through a clothes dryer. There's just something about the scent of line-dried clothes that cannot be beaten by a store-bought fabric softener.
Get on the Path to a Simplified Life Today

These are just a few ideas for simplifying your lifestyle to reduce stress and save some money in the process. That money you save can then be used to add funds and speed up your Century program. Meanwhile, you will have to cut out the excesses from your lifestyle to reveal a simpler and more enjoyable existence.