Is warmer weather giving you the urge to trade in your car for a more stylish one to drive around in? Before you decide to sell, check Kelley Blue Book to see if this is a good time to do so. If you won't get much for your car or if Kelley Blue Book recommends waiting, use these tips to maintain the value of your car. This helps ensure that you get a great deal when you do end up trading it in.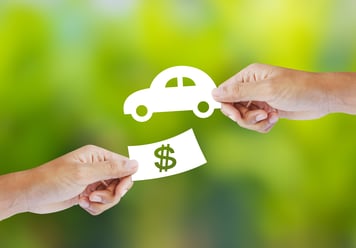 Wash Your Car Regularly. One of the most important factors taken into consideration when you trade in a car is the condition of its exterior. You can keep your car's exterior in excellent condition by washing it regularly. Keep in mind that you shouldn't wait until your car looks dirty. Grime and dirt can build up on it slowly and gradually dull its appearance before you notice that it needs a wash. When it's time to wash your car, you don't have to bring it to the local car wash, which can get expensive. You can wash your car at home instead. All you need is a bucket, a couple of sponges, a cleaner that's safe to use on car exteriors and water for rinsing your car off.
Clean the Interior. Your car's interior is also taken into consideration when you trade it in. Get into the habit of throwing out trash every time you get out of the car, rather than leaving it for a later time. This helps keep your car tidy and also reduces the risk of having odors linger in it. You can also keep your car's interior clean and protect it from stains and spills by placing clean blankets on the seats. If you're a smoker, keep in mind that smoking inside your car can lower its value due to odors and residue.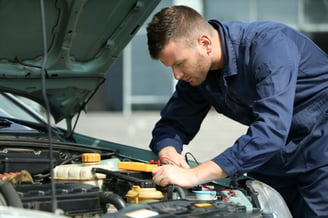 Get Regular Maintenance. One of the most effective ways to maintain the value of your car is by having regular maintenance done. This includes having the tires rotated, having the oil changed and having the brakes and other parts inspected to make sure they're in good condition. Putting off regular maintenance can negatively affect your car's value and lead to additional wear and tear, which can lead to costly repairs. Check with local car dealerships and repair shops for current deals on maintenance. Many places offer free or discounted services, such as oil changes and tire rotations.
Park with Care. Some factors that can lower the value of your car are beyond your control, but you can take steps to prevent them from happening. Dents and scratches on your car's exterior can bring down its value. You can lower this risk by watching where you park your car. Try to avoid parking next to other vehicles in parking lots if possible, especially if they're larger vehicles or two-door vehicles with longer or wider doors. Don't park in spots that are tight due to the cars on either side parking too close. Your car is more likely to end up with a dent or scratch when the doors on those cars are opened.
Drive with Caution. The way you drive your car can affect its value. Driving at higher speeds, driving your car on rough roads or roads that are in poor condition and towing items that are over the recommended weight limit for your car can all lead to excessive wear and tear, which causes your car to drop in value. Putting these tips to use gives you an improved chance of getting more for your car when you trade it in. This means you're more likely to be able to afford to get the car you want. Whether you plan on trading in your car in the next few months or the next few years, it's important to follow these tips on a regular basis.