As Thanksgiving approaches, families everywhere may think about an impending road trip. It's the time of year many extended families gather, and that often means that a long-distance drive is on the horizon.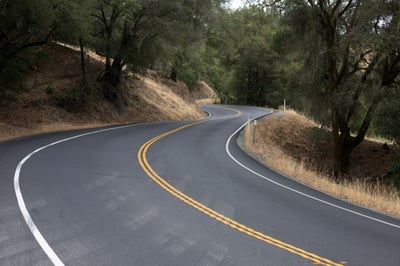 Although you can't avoid the necessary stops for gas, you'll make the trips a lot more enjoyable, and economical, if you plan and pack a mix of healthy and fun snacks that the whole family can enjoy.
Drinks
If you try to buy beverages that cater to every family member's whims and desires, you'll be spending so much money that you might have been better off buying airline tickets instead of driving. That would defeat the purpose of the drive. Appease the taste of finicky people by cutting up lemons, limes, oranges, and slicing cucumbers, kiwi, and berries. Pack these sliced goodies in airtight plastic containers that you can stash in a cooler or insulated bag. Then buy water by the gallon so that each person can fill their water bottles and add the combination of fruits and veggies they prefer. Water is the healthiest beverage choice, plus you're adding flavor in the form of nutritious foods.
DIY Snack Mixes
Store-bought snack mixes are not just expensive;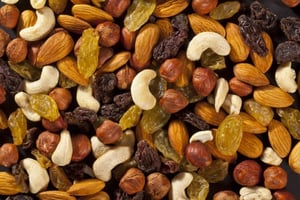 they are loaded with salt, sugar, preservatives, and processed ingredients. The best way to satisfy your family's tastes for sweet and savory treats is by creating your own mix of healthy treats.
You don't have to have a food dehydrator to dry fruit to have on hand. You can do it in the oven - provided you have the time. Cut the core out of apples and pears and cut thin round slices. Line a baking sheet with parchment paper. Place the slices on the baking sheet, making sure that nothing overlaps. Dry them in a preheated 250 - 300-degree oven until the slices are rubbery and start to curl. Allow the fruit to cool before you pack it in an airtight container.
Make your own trail mix with the fruit you dry, raisins, sunflower and pumpkin seeds, and pecans, peanuts, almonds, and other nuts. Pack plastic bags full of snack mix and put family members' names on the bags.
Miscellaneous Travel Treats
Make sure that people aren't hungry during the drive. To do that, pack some food that's full of protein. String cheese is ideal at a time like this. You can buy packages with 12, 24, or 36 sticks, and they come in a range of flavors.
You can also use the string cheese for protein-rich roll-ups.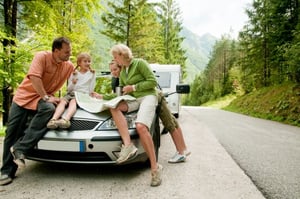 Wrap thin slices of ham or turkey around a string cheese stick, and you have a practical alternative to sandwiches - and something that's fun to eat. Wrap each roll in plastic wrap and put them in a plastic bag in your cooler.
Pack small containers full of peanut butter so passengers can dunk carrots, celery, or apple slices. Place carrots and celery in plastic baggies and pack apple slices in plastic containers. Drizzle lemon juice on the slices to prevent browning.
Remember to limit the sodium in the snack foods you pack because salt makes you thirsty, and that will mean more bathroom stops - extending the length of your trip.
Don't forget to fill a thermos or two full of coffee - even a flavored variety. That bag of coffee you buy in the grocery store will cost less than a single specialty coffee drink at any of the national chains.