The holidays are fast approaching, and for most who are glad to see the pandemic in the rearview mirror – the holiday season is quite a welcome sight.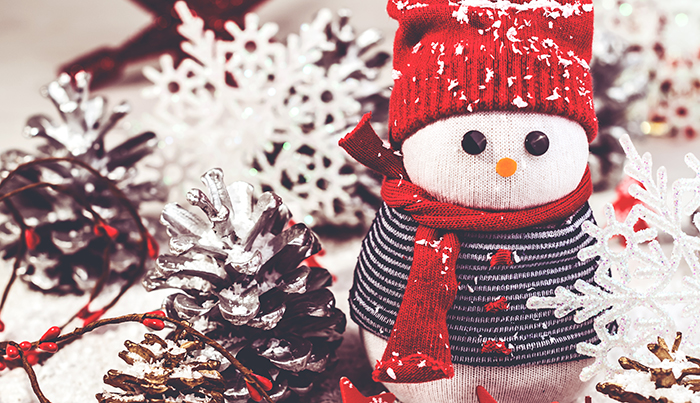 But with inflation, the holiday season has become an expensive end-of-the-year celebration. According to the NRF (the National Retail Federation), in 2021, the average consumer was planning to spend $998 on holiday-related food, gifts, and decorations. The following graph offers a historical look at holiday spending from 2004 to 2021–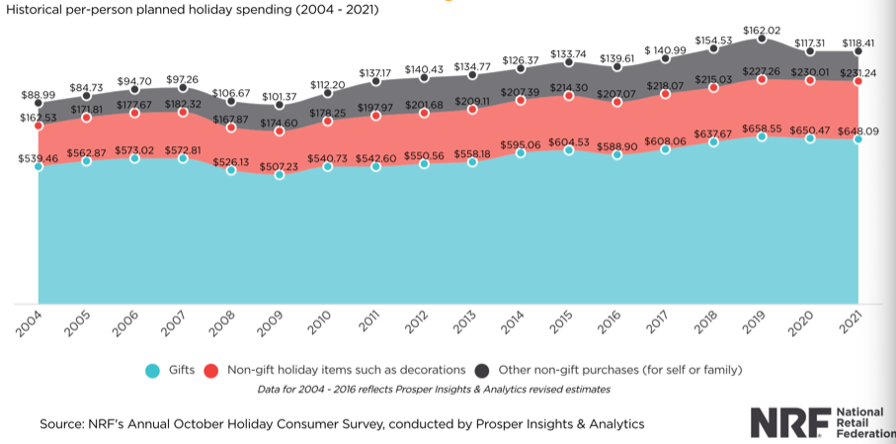 Source
And the above-noted dollar amounts do not include the costs required for holiday travel and other festivities of the holiday season. Add some very real global inflation (resulting in the shrinking purchasing power of the dollar), and it is not uncommon for holiday cheer to turn to holiday stress.
The good news is there are simple and effective ways to save during what should be a celebratory season filled with friends and family. Consider these clever techniques -
1. Shop Early or During the Offseason.
NRF's report notes that, increasingly, consumers begin shopping for the holiday season earlier and earlier. In 2021, 61% of consumers started shopping by early November. This is an increase from 51% of early shoppers ten years earlier. The reasons for consumers to start shopping early include the following –
Retailers have begun offering sales earlier and earlier in the season and even offering bargains for unsold items at a newly-defined sales event – Christmas in July.


Starting early gives you more time to pay for the season's expenses, among others.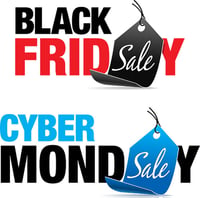 2. Take Advantage of Black Friday & Cyber Monday
These two giant shopping holiday events offer deep discounts on large-ticket items but also provide savings on holiday decor, crafting supplies, and the always-needed batteries.
3. Check Out What Thrift Stores Have to Offer.
Thrift stores have always had a strong following; however, their popularity has increased as they offer such fabulous and unusual finds for shoppers who love to just hunt down interesting items to be reused. The best time to find holiday items at thrift stores is usually after the holidays when individuals donate unwanted items rather than pack them away until next year.
4. Forage in Nature.
Holiday decorating can include elements of nature that can be found by walking in or around wooded areas. Most suburban yards offer acorns, pinecones, and evergreen shrubs that can brighten up any holiday décor in an eco-friendly way.
5. Do-It-Yourself Projects Can Involve the Whole Family.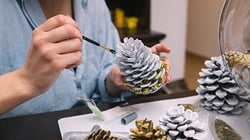 Grabbing some craft materials at the local dollar store is a great way to decorate for the holidays and include everyone in the decorating process. From painted pumpkins to Christmas ball vases to stringing popcorn/cranberries or evergreen garlands, your imagination is the only limiting factor. Check out Martha Stewart's simple step-by-step instructions for making paper snowflakes.
6. Re-purpose Old Objects
There are many ways to use existing items in new creative ways. For example, craft an unusual lighting effect by taking a string of lights and tucking them into a see-through vase. Not only will you be reducing your carbon footprint, but there is also no cost to reuse something you already own.
7. Use Non-Traditional Decor
Not every decoration has to fall within a traditional holiday theme of red ribbons and light strings. Be creative and display some of your favorite things in a vignette or a dedicated mantelpiece.
8. Buy Used Online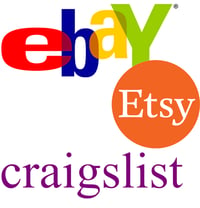 The digital marketplace now offers many websites dedicated to selling previously owned goods. From Etsy to eBay and Craigslist, there are limitless ways to purchase preowned holiday (and non-holiday) merchandise that can help you save money decorating.