The good news? We're nearly halfway through winter. The bad news? We still have several weeks to go before we can officially bid farewell to winter weather. If you crave your favorite hearty foods when the thermometer drops and the cold winds blow, you're hardly alone. Unfortunately, indulging in comfort foods often comes at the expense of New Year's goals -- both in terms of finances and fitness. But it is possible to have your (rice) cake and eat it, too. Read on for a roundup of five of our favorite healthy and budget-conscious comfort foods.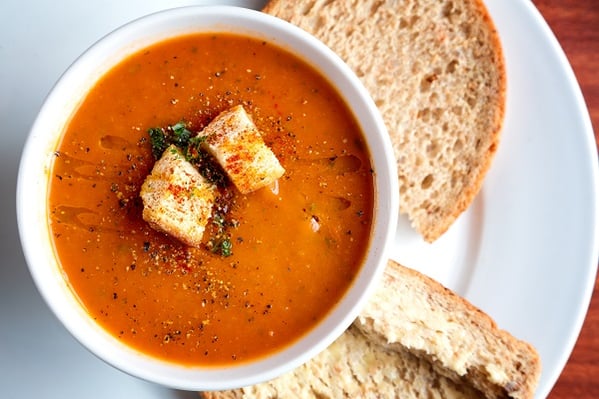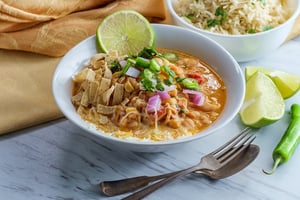 1. Turkey White Chili
Whether you're planning a game-day meal or simply want a stick-to-your-ribs option to serve up to your family on a chilly day, this flavorful chili delivers. It's also high in protein so you'll get a solid metabolic boost while also feeling sated longer.
While this one uses quite a few spices, you're probably already got them in your spice rack.

One hint to trim costs even further? Swap in dried chickpeas for the canned version.

2. Hearty Vegetable Soup
This veggie soup is so satisfying that it's got "hearty" built into its title. While this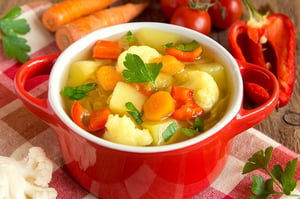 incredibly versatile recipe calls for carrots, celery, cauliflower, zucchini, tomatoes and kidney beans, you can use a variety of other vegetables you might have in the fridge, including broccoli, green beans, corn, peas, parsnips, spinach, kale, potatoes, sweet potatoes, squash or leeks. You can also swap out the kidney beans for another bean in your pantry, such as pinto or black beans.

This wholesome lunch or dinner is also fridge- and freezer-friendly so you can save some for a rainy -- or snowy, as the case may be -- day.

3. Kale Pesto Pizza
Loaded with antioxidants, fiber and good fat, kale is the ultimate super food. It's also inexpensive compared to many other leafy greens -- especially in the winter. The takeaway? If you're craving pizza but worried about the calories and cost of takeout, this cheesy, crispy pizza is a tasty and affordable solution.

People with nut allergies aren't out of luck: Just use green pumpkin seeds (pepitas) instead of pecans and you're good to go.

Plus, if you end up with extra pesto, you can always use it later on a sandwich or pasta.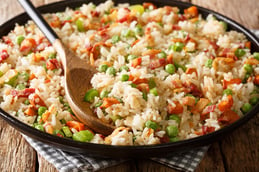 4. Vegetable Fried Rice
Chinese food may be tasty, but it's not the best choice when you're trying to make healthy choices for your waistline and your wallet. Enter this lighter version of fried rice, which offers all of the flavors without sabotaging resolutions to eat better and spend less in the new year. If you've got other veggies on hand, such as broccoli or julienne carrots, feel free to toss those in, as well.

Always wondering what to do with your leftover rice? Meet your new go-to dish.

5. Red Chicken Enchiladas
Think Mexican is off the menu if you're counting calories? Think again. Rachael Ray is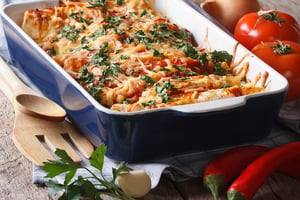 the master of serving up delicious food on a budget. And with a prep time of just 15 minutes, you'll be saving time, as well.

Why let heavy meals weigh you down this winter when you can enjoy crave-worthy cozy foods with none of the guilt associated with overeating and overspending? These five recipes will help you prepare to welcome warmer weather with a healthier body and and bottom line.