Start the New Year Off Right
A new year means new possibilities. While people tend to make New Year's resolutions to improve their physical health, you should consider paying equal attention to your financial health. A great way to do this is to prepare for the new year with a general review and update of your finances.
It's time to track spending patterns, investments over the past year and whether these decisions were in line with your overall financial objectives. The intention here is not to criticize or regret what is bygone, but rather to understand our own financial behavior. It can help us align our behavior to our life goals or to rethink some of our financial decisions.
Steps To Improve Your Financial Health in 2023
Financial health refers to your monetary state. Strong financial health is characterized by a steady flow of income, a growing cash balance, and regular expenses that do not show any sudden spikes. Getting to this stage can seem challenging, especially when you are starting out with a limited income and heavy expenses.
This is where financial planning comes in. A good financial plan should help to keep you on track for your overall financial goals.
1. Create a Monthly Budget and Stick to It
One of the major focuses of a review is to understand our spending patterns. While we may aim to follow pre-set spending goals, most of us are often unaware of our actual buying habits. This is usually why our savings at the end of the month are sometimes lesser than expected. Fortunately, we have the means to check our actual spending in a more reliable manner.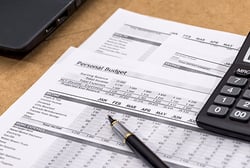 The first would be to try and maintain a budget spreadsheet each month where you record each purchase or outflow from your account. If maintaining a spreadsheet seems too challenging, check your bank account, including all credit card purchases. Chances are that you will find unnecessary expenses or unhealthy spending habits, such as an annual magazine subscription, unused streaming services or some other added expenses that are no longer needed.
2. Learn More to Earn More
Give yourself the tools you need to improve your financial health by making financial literacy part of your planning process. Knowledge is power in all areas of life. After all, the more you know about something, the more likely you are to make more thoughtful decisions.
Educating yourself about money matters is a great way to get a handle on your finances. Read from an array of topics in the Century Resources section of our website and check out other tools and resources including our debt assessment calculator.
It's Full Speed Ahead!
Becoming more financially savvy will pay dividends that keep giving. Prepare to ring in the new year right by setting the stage for financial success. Need some guidance on debt settlement? We're here to help.