A little research and creativity can go a long way in keeping people of all ages busy during the warmer months. Here are a few ideas to try.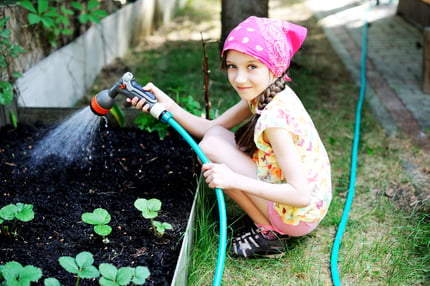 Spruce Up Your Yard. Starting your own vegetable garden or making small improvements to your surroundings doesn't need to cost a lot of money. Planting seeds and then watching your own vegetables grow can be educational, not to mention healthy once your plants are ready for harvesting. Check out garage sales and flea markets for new and different items to make your yard more inviting. Vintage finds can take on a whole new frugal look with a simple coat of paint.
Enjoy A Park Or Pool. Visit your county or city website to identify the community parks or recreation areas in your place of residency. Some parks feature bulletin boards where you can find information on hikes, classes and story times. Your community pool can be a wonderful retreat from the summer heat. You may even receive discounted fees for special family nights. Discounted rates may also be available for those who choose to visit later in the afternoon. Consider looking on social network sites for different community groups which give lists of activities in your area.
Book Stores And Libraries. Your local library may offer some great free summer programs for adults, teens and children. Even toddlers can take advantage of local library programs with crafts and story times focusing on this particular age group. If your local library doesn't sponsor a particular program you could volunteer to start one!
Host A Potluck Barbecue. Warm weather is the perfect time to enjoy the company of friends in the outdoors. When great food is involved it's even better! Feel free to keep things frugal by suggesting the each guest bring an easy-to-make side dish, drink or dessert. As the host, you can supply the main course and offer your backyard as the main party location. If everyone else brings some food, you should be able to enjoy a fun party without straying from your budget.
Plan A Movie Night. Movies and popcorn can be just as enjoyable at home as in the theater – and much less expensive! Popping plain popcorn kernels on the stove or via air popper can taste great and be healthier, too. You could make this a tradition by choosing a different friend/family member to host it each weekend or whenever time allows.
Organize A Pizza-Making Contest. Pizza is a traditional favorite and tastes great on the grill as well as from the oven. You could have each guest arrive at the party with their own pre-made dough and a few toppings. You can be as creative as you like with both dough and toppings as long as you stay smart on the cost. Judge the pizzas and choose a winner or simply enjoy each other's masterpieces. Just have a good time!