Your Century Onboarding Items
Below are some of the onboarding items you will need to move forward with your Century program.
Thanks and welcome to Century!
Your Onboarding Review Sheet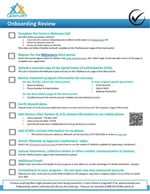 Please take a moment to download our Onboarding Review sheet. This document will assist you with the important items in this checklist that require you to take action. You will be provided the opportunity to download the Onboarding Review at the end of this checklist as well.
Portal Registration Tutorial
Important Program
Contact Information
Please add two important contact numbers on your mobile phone.
724-861-3401
Our text number - 47234


By scanning this QR code with your smartphone, our important contact numbers will be setup as a contact in your phone.
In thinking about your new program and applying it to your day-to-day life, is there anything that you can think of that might prevent you from being successful in your Century program?
If you answered YES to the question above or if you find that there are still program related items you are unsure about, please reach out to our Onboarding Liaisons at 888-913-8784 option 6 or by scheduling a meeting with them at the link below.